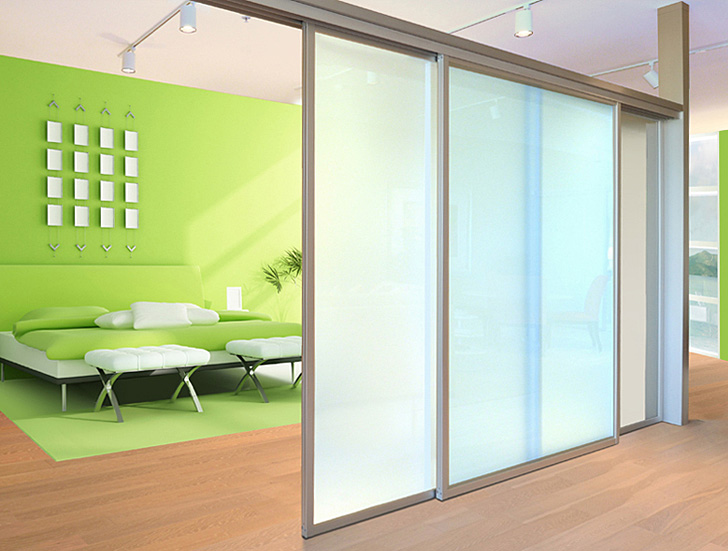 ---
The DIVIDERS TOP HUNG ROOM DIVIDER is a system that can be mounted under a header, mounted to a ceiling or mounted using the DIVIDERS Aluminum Beam System. Similar to the Bottom Rolled System, this versatile system offers the ability to divide rooms or create new spaces without the use of existing walls but with no floor tracks required. This Divider System is not only the perfect solution for aesthetically maximizing open spaces but at the same time provides the functionality and safety of a trackless door system.
---
 MADE IN AMERICA
2-3 week lead time to job sites
Simple to install
Standard or ADA compliant double, triple & quad systems
Complies with ADA standards for push/pull force
Latches and pulls for privacy and passage applications
---
Glass thickness: 3mm min – 6mm max.
Accepts base boards from 1/4" to 7/8" thick
Available in single, double, and triple panel systems
Panel weight: 150 lbs. max.
---
PANEL CONFIGURATIONS
1 | f/o 45 sq. ft. max
2 | f/o 90 sq. ft. max
3 | f/o 135 sq. ft. max
4 | f/o 180 sq. ft. max
6 | f/o 270 sq. ft. max
---